Dear friend,
We've been overwhelmed by the love notes and incredible before-and-after pictures you have been sending us since incorporating The Silk Canvas into your morning ritual. You've been happily reporting that your bare skin looks much clearer, brighter, smoother, and firmer over time, which delights us more than you'll ever know.
We're incredibly proud to create every formula from scratch — like a couture dress — in Japan, with our skincare scientists at the Tatcha Institute. Ahead, discover why this skincare-first formula has become a #1 primer that changes the look of even your bare skin.
Keeps Pollution & Makeup Out of Pores
The Silk Canvas is, first and foremost, a skincare treasure. While its pore-perfecting, makeup-enhancing benefits are an obvious plus (who doesn't love when their makeup glides on smoothly and lasts all day?), what makes The Silk Canvas truly special is its core purpose: to protect skin.
This treasure acts like a filter for your complexion. When used as the final step in a skincare ritual, The Silk Canvas protects against environmental pollutants, creating a weightless network of silk proteins to keep hydration in. Used as the first step in a makeup routine, The Silk Canvas provides these same benefits, plus it acts as a weightless barrier between skin and makeup, which is comprised of pigments and carrier oils that can otherwise lead to clogged pores and breakouts.
Formulated With Real Silk
A trinity of pure, featherlight silks within The Silk Canvas make it feel like you're wearing nothing at all. Because silk proteins are biosimilar to the natural proteins in our skin, they help the protective primer formula feel weightless and natural on skin — all while protecting you from external factors.
Want to know which role each type of silk plays in The Silk Canvas formulation? Fibroin nourishes skin for a lustrous, healthy glow, sericin mimics the structure of skin to act as a shield that holds in moisture, and silk powder creates a blurring effect on pores to help makeup apply flawlessly.
Proven Benefits Over Time
In consumer use studies, The Silk Canvas has proven to have long-term benefits for skin. In addition to 100% of subjects agreeing that their skin felt smoother immediately after application, they also reported the following benefits after two weeks of use:
100% of subjects agreed after using the primer that their skin felt soft, fresh, and natural, more even-toned, younger, and healthier, and their makeup applied more smoothly
95% of subjects agreed after using the primer that their skin had a healthy glow, a soft "filter finish" look even without makeup, their skin had a satin finish, and their foundation had better coverage
90% of subjects agreed after using the primer that their makeup did not crease and that they would wear the primer alone without makeup
100% of subjects would recommend The Silk Canvas to a friend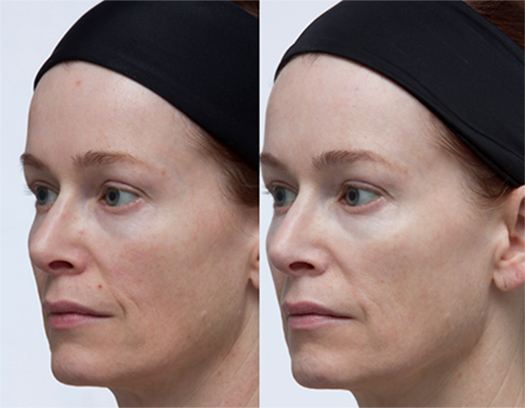 Shown above: a subject before and after 2 weeks of use.
Authentic Japanese Craftsmanship
The Silk Canvas is crafted and formulated in Japan by the Tatcha Institute, featuring elegant packaging with chrome detailing and a sophisticated applicator disc for effortless handling. The Tatcha Institute's team of scientists worked tirelessly for over two years to perfect this first-of-its-kind formula and labored for over a year to create the perfect packaging, and we couldn't be prouder of the impeccable work they've done.
Gives Skin a Flawless Finish
The trinity of silks in this pressed balm melt into skin, keeping it baby-soft and blurring away pores and fine lines for a flawless finish. Our client friends can't get enough of the way this treasure boosts color payoff for any cosmetics applied afterwards.
We're eternally honored to share our treasures with you, and we're indescribably grateful for the positive response you've given The Silk Canvas since its launch. Caring for you is our greatest pleasure, and we can't thank you enough for welcoming us into your life.
Wishing you silken skin,
The Tatcha Family