Benefits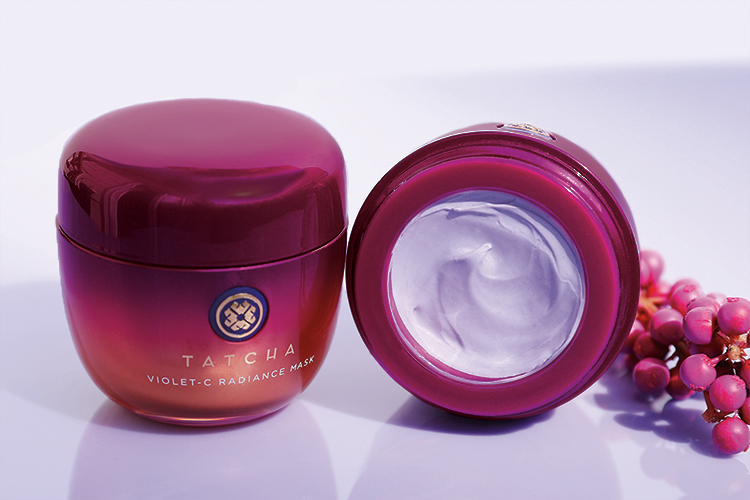 Why It Works
Instantly reveal remarkably softer, smoother skin with this creamy rinse-off treatment mask. The formula features two types of Vitamin C: a water-soluble vitamin C derivative that absorbs quickly for an immediate glow and an oil-soluble vitamin C derivative that remains in skin longer, providing antioxidant protection from UV damage for brighter, more even toned skin over time.
The mask is also powered by the Japanese beautyberry, a superfruit rich in antioxidants that was found to stabilize Vitamin C, maximizing its effectiveness.
A gentle 10 percent AHA complex of seven fruits removes debris and the buildup of dead skin cells to visibly improve skin texture and support the production of new skin cells. Tatcha's signature trio of Japanese anti-aging superfoods—green tea, rice, and algae—helps to restore a more youthful appearance.
Ingredients
Non-comedogenic. Non-irritating. Non-sensitizing. Dermatologist tested. Cruelty-free.
Formulated without:
Mineral oil, synthetic fragrances, sulfate detergents, parabens, urea, DEA, TEA or phthalates.
Hadasei-3
​Tatcha's trinity of anti-aging superfoods reveals soft, youthful skin.
How To Use
Suggested Usage
After cleansing, apply a generous, even layer to skin, avoiding the eye area. Leave on for 15-20 minutes and then rinse thoroughly with warm water. Can be used two to three times per week.
Suggested Ritual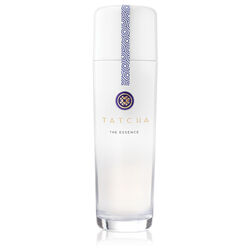 Step 1.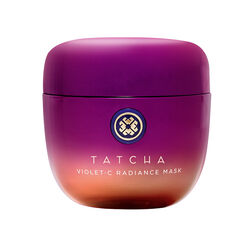 Step 2.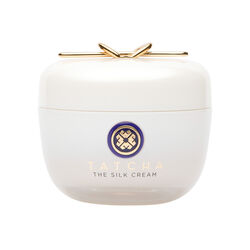 Step 3.
Violet-C Radiance Mask
is rated out of
5
by
33
.
Rated

5

out of

5
by
x_ladycotto_glam
from
Amazing Violet-C
I purchased this 3 months ago, my skin was feeling and appearing very fatigued. I started using the tatcha deep cleanse, and then I would apply the Violet-C 2 times a week making my skin feel alive, rejuvenated, and most of appear as if I had been using tatcha for years! People still don't believe I am almost 50! Thank you tatcha, it is a brand I can not live without.
Date published: 2019-01-07
Rated

5

out of

5
by
Gianna
from
Helped acne scarring after years of trying to get rid of it!
2 years ago my face broke out in cystic acne after never having acne before. The acne is 95% gone now but I still have major scarring from picking and popping. I never write reviews but this deserved it. Even though it's an anti-aging mask, if you have scarring from acne TRY this product!!! I've been using it for about 2 weeks and my scarring is completely cleared up on one side of my face and almost clear on the other side. I have tried numerous products even from the dermatologist and nothing else has helped even the tiniest bit. I am so so so happy!! I also had texture on my cheeks near my nose and my face is soooo smooth now. This product is absolutely amazing and has given me so much confidence in my face and hope that I will have nice skin.
Date published: 2018-01-29
Rated

5

out of

5
by
Jillian
from
An Outstanding Mask!
This beautiful Violet colored mask is absolutely wonderful! It has natural ingredients, Beautyberry, 7 fruits, a water derivative vitamin C and Oil derivative form of Vitamin C and AHA's! This mask does a little of everything! It brightens, firms, hydrates, gently exfoliates, provides antioxidant and features UV protection, helps with collagen, promotes cell turnover... it's truly outstanding. Extremely hydrating and comforting, this mask is like a beautiful gift to my skin to nourish and treat it all at once! Applied easily and remained comfortable during the 10 min waiting period and then removed easily. Instantly brighter skin and deeply hydrating! Tatcha always makes an incredible product and this mask is no exception!
Date published: 2017-06-21
Rated

5

out of

5
by
Khasi
from
Violet C - Radiance Mask is a Game Changer
I highly recommended this product. I noticed immediate results after my first use on Tuesday, 1/8. My skin has never been so smooth and radiant. The picture below was taken on Wednesday, 1/9 after the first use of this product. I have sensitive skin and I have been using a variety of Tatcha products for about 3 months and Tatcha is the only product line that has worked for me. My next purchase will be the VIOLET-C BRIGHTENING SERUM.
Date published: 2019-01-12
Rated

5

out of

5
by
Anonymous
from
This mask is EVERYTHING!
I purchased this mask because my skin, in addition to being acnegenic, has always felt "thick". Sort of like there is too much skin there for all of the wonderful Tatcha products to soak in. So I bought this mask hoping that it would help. I was shocked by how much better, smoother, softer, and less thick my skin felt after just one use. Please don't hesitate to buy this; it is worth every penny. I don't know why I was surprised, everything Tatcha produces is a home run and this is no exception!
Date published: 2017-07-10
Rated

5

out of

5
by
Ollie2525
from
I'm speechless
I'm not normally a mask kind of girl. Usually I find it more as a chore than anything relaxing. I love all of TATCHA's treasures so much that I decided to give this mask a try and I'm so glad that I did. It's a beautiful light purple color and ultra creamy and soft. After washing my face with the Camelia Cleansing oil and the Deep Cleanse face wash, I applied one scoop and that was enough for the entire face. Waited the 15 minutes and when I went to go wash it off, I noticed something peculiar that proved to me it was actually doing something. I noticed that where the formula was penetrating the pores, it looked slightly lighter purple, I thought that was pretty cool that it was doing something at least. After washing I applied my Ageless Revitalizing Eye Cream and the Dewy Night Concentrate and wow, I'm seriously in disbelief about the instant results it showed. It really does brighten and make your skin so incredibly soft. I'm so happy about this impulse buy! This is the mask for me!
Date published: 2018-07-26
Rated

5

out of

5
by
Anonymous
from
My new favorite Tatcha product!
Like other reviewers of this new elegant product, I felt I needed to take a moment to review this find. When Tatcha hits the mark with a product it is hard to beat. My notable finds are the Essence, Kyoto Red lipstick, the body scrub and now this mask. I have been using the mask for 2 weeks at least twice a week and have discovered that my skin has become very soft, smooth and a more bright and radiant color - healthy. Anyone in their 60s will know that skin begins to look dull and strained easily - too little sleep, stress will show up immediately in your skin. This mask appears to replenish my skin so that the stresses of life and the winter weather are erased. I really look healthier (and younger). This was more than I expected from a beauty product. And as always, the Tatcha product is packaged with beauty and care. That is part of the delight in using this product line. Opening the products makes me happy and happiness does impact your looks.
Date published: 2018-01-05
Rated

5

out of

5
by
katc
from
i am gonna keep buying this!
I've gone 3 jars of this product, and it's still my favorite. I use this every other morning. I cleanse my face, use the Essence, put on this mask and leave it on for about 20 minutes while I sip my morning tea. I love the glow I get from using this. It's the brightest way to start my day. Keep up the good work, Tatcha!
Date published: 2018-06-17
Rated

5

out of

5
by
Ishxvarya
from
GLOW. GLOW. GLOW.
If you're attracted to products that say radiance and glowing skin, GET THIS ONE. Trust me. As a sucker for those two words and a skincare junkie, here's a s product that actually showed results right after I took the mask off.
Date published: 2018-11-15
Rated

5

out of

5
by
mk_willie
from
BRIGHT AND BRAND NEW
I'm a skeptic when it comes to skincare which will never change. I've been using Tatcha for 5 years, and I was hesitant to try this. Masks like these don't usually do anything for oily, acne prone skin like mine. I was wrong. My skin glows after I use this and the texture is SO smooth and soft. Instantly adding to my skincare routine. Melanin gon' be poppin all summer!!!
Date published: 2018-06-21
Rated

5

out of

5
by
Misha
from
The greatest mask ever
Smells so good, creamy texture and looks funny :) My skin feels so soft and bright after my mask, I'm happy!
Date published: 2018-08-05
Rated

5

out of

5
by
Yanny
from
After I finished a whole jar...
I wrote this after I finished the whole thing, I mean honestly it's not a lot of product in there, but it works (at least for me). It doesn't irritate my sensitive and dry skin during or after I used the product, even when my skin conditions was super bad due to lack of sleep or way too dry. The immediate result is usually smoothness, including trouble areas like nose and chin where I had little white heads and black head.
Date published: 2018-04-19
Rated

4

out of

5
by
Julie
from
So soft
I really love this gentle mask. I feel like I am getting a top of the line treatment at home. Usually, my skin doesn't feel so baby soft unless I did some kind peel. The purple color is an extra feature that I love. Very nourishing. I will definitely use this interchangeably with my Tatcha hydrating mask.
Date published: 2017-07-28
Rated

5

out of

5
by
Anonymous
from
Fabulous Mask!
I am a skincare junkie and love a good mask. I'm so glad I splurged on this. The first time I used this I saw an improvement in the brightness of my skin. Overall my skin looked clearer and I noticed my makeup went on smoother the next morning. Throughout the day, my skin looked picture perfect and glowing. I can see myself using this at least once a week. Also, it's so pretty. It's fun to paint my face purple! I would definitely recommend giving it a go.
Date published: 2017-09-26
Rated

5

out of

5
by
Citygirl
from
Love it!!!
This mask is incredible. My skin feels so luxurious! I was hesitant at first because of the price but you really don't use that much. I've already used it twice and my skin constantly feels amazing.
Date published: 2018-11-16
Rated

5

out of

5
by
Joy
from
Nice Addition to the line!
After 15 mins on my face, I washed it off and noticed my skin is extremely soft and brightened after just after one use. As I notice there are lots of sheet masks out there, it is a nice addition to have something washable too. Definitely a good product from Tatcha as always!
Date published: 2017-06-22
Rated

3

out of

5
by
Pen
from
not good as expected
I like the idea and ingredients of this mask. I thought it supposed to be brightening and exfoliating. it smells good and feels creamy, after I used it my skin feels about the same. and I understand that one use won't change anything. But it made me break out the next day. I have combination skin, and sometimes sheet mask like to make me break out, ,maybe because of it's so nourishing. better for dryer skin.
Date published: 2017-09-26
Rated

5

out of

5
by
Anonymous
from
Another wonderful Tatcha product!
I am addicted to Tatcha -and I love this mask. It is very hydrating to my 59-year-old skin. It is easy to apply and easy to remove. Thank you, Vicky!
Date published: 2017-07-13
Rated

5

out of

5
by
Emma
from
The Real Deal
Had an opportunity to sample and it is truly the real deal. No other home mask that I've ever tried has left my skin glowing, smooth, and healthy.
Date published: 2017-07-16
Rated

5

out of

5
by
SP
from
Purple perfection!
I love this mask! My skin feels smoother and brighter after use and I'm excited to see it's long-term effects! :) A solid product!
Date published: 2017-07-27
Rated

5

out of

5
by
Catalina
from
Love this amazing
I love this mask makes my skin feel so glowy and my dark spots are fading away.
Date published: 2017-12-29
Rated

5

out of

5
by
Catalina
from
I had to write a review now that I've been using a while
Amazing I feel like my skin so soft and glowing!
Date published: 2017-12-30
Rated

5

out of

5
by
Anonymous
from
Absolutely Amazing
This mask is one of a kind. I have tried many different masks but nothing performs quite like this one. It gives my skin a blurring effect, smaller pores, glow, and balance- all in ONE. I originally tried it because my friend had it, and she gave me a mini. Now I cannot go without it because whenever I use a different mask I just long for the effects of this one. I've tried other masks that make the same claims, but this one goes above and beyond.
Date published: 2017-12-15
Rated

5

out of

5
by
Trudy
from
Great mask!
I ordered this on the replenishment program and I am glad I did. I may try it next time with the Essence and will probably have even better results. I'm in love.
Date published: 2017-09-13
Rated

5

out of

5
by
Anonymous
from
Beautyberry fairy!
Best mask I have ever used! My face felt like velvet. I used it before applying makeup for an evening out and my skin stayed radiant. Tatcha does it again!
Date published: 2017-06-30
bvseo_sdk, dw_cartridge, 16.1.1, p_sdk_3.2.0
CLOUD, getContent, 13ms
reviews, product
How long will it take to see results?
You'll see softer, smoother skin after just one use. As with all brightening formulas, the brightening benefits increase over time with each use.
Date published: 2018-08-15
Can one use this mask even if they have combination skin? 
Thank you for your question! The Violet C Radiance Mask is formulated for all skin types to help resurface skin, increase radiance, and give a brighter look to the complexion over time. We hope you will love it!
Date published: 2018-09-14
With the 10%(?) blend of AHAs in this mask, I was wondering if it would be unwise to use the Rice Enzyme Exfoliant (or a cleanser also containing AHAs) before this mask? Would it also be a bad idea to use any of those other exfoliants afterwards?
Thank you for your question! If your skin is quite sensitive, we would suggest skipping the Rice Enzyme Powder at times when you apply the mask. If not, it is fine to use the Rice Enzyme Powder as directed for 15 seconds. Then apply The Essence if you use it, followed by the Violet C Radiance Mask for about 15 minutes and rinse. Finish with your regular serums and moisturizers. You can use the mask up to three times per week. We would not suggest using another cleanser with AHAs at the same time. We hope this helps!
Date published: 2018-08-27
I'm 22 years old can I use this ? Or it's just for anti aging skin 
That is a great question! All of our treasures, including the Violet C Radiance Mask, help to both protect and repair skin, making them ideal for a wide range of ages. Your youthful skin will certainly benefit from starting with an anti-aging skincare ritual to help maintain smoothness and glow. We hope this helps!
Date published: 2019-01-04
How does this product keep Vitamin C stable in a jar format?
Japanese Beautyberry helps to stabilize Vitamin C derivatives. This formula does not contain ascorbic acid, which would oxidize. The Vitamin C derivatives are very skin compatible and stable, and convert to ascorbic acid naturally when applied to the skin.
Date published: 2018-08-15
What step do I use this in my ritual?
Use the Violet-C Radiance Mask after cleansing the skin and applying The Essence. After rinsing, you can reapply The Essence if desired, then follow with your preferred serum and moisturizer.
Date published: 2018-08-15
Why haven't you made a video for this product?
That is a great question! We are working hard to provide a video presentation of this treasure. Thank you so much for your patience!
Date published: 2018-08-14
I have a few question. Is it recommended to use the exfoliaters before or after the violet C mask? Or should I skip exfoliating? Also, I use fresh rose hydrating toner, is it a safe combination? And last question, anti aging cream ok to apply after mask? 
Thank you for your question! You may certainly exfoliate with either our Rice Polish or Deep Cleanse prior to using this mask. Feel free to follow with your toner of choice, as long as it is not high in alcohol or exfoliating acids. After rinsing, we always suggest following with your favorite moisturizer and a sunscreen for day. We hope this helps!
Date published: 2018-12-04
bvseo_sdk, dw_cartridge, 16.1.1, p_sdk_3.2.0
CLOUD, getContent, 14ms
questions, product

Purity Promise
We promise our formulas will always be free from parabens, synthetic fragrances, mineral oil, sulfate detergents, phthalates, urea, DEA, TEA and many other ingredients. The collection is non-irritating, non-sensitizing and dermatologist tested.