Polished
Gentle Rice Enzyme Powder - for Dry Skin
60g / 2.1 oz.
You May Also Like
When brewing their fabled drink, sake masters, or Toji, constantly immerse their hands in rice bran, only to have them emerge fresh, pure, cherubic. Geisha noticed this phenomenon and rely on rice bran even today to polish their skin to a luster.
The secret? Japanese Rice Bran (Komenuka), prized for its skin soothing and smoothing enzymes and gamma oryzonal, a potent anti-oxidant against UV-induced oxidative damage.
This same Komenuka is at the heart of all TATCHA POLISHED Rice Enzyme Powders.
How do I use this product?
Begin with wet hands and a wet face. Pour about half a teaspoon into hands, add water and rub hands together to create a creamy foam. Massage gently onto a wet face in circular motions for 10-20 seconds, avoiding eyes. Rinse and revel in your soft, smooth skin.
What step in my skin care ritual is a Rice Enzyme Powder?
Use of the polishing powder is the 2nd step in your Tatcha ritual. For best results, use after removing makeup with the Camellia Cleansing Oil, then follow the Enzyme Powder with a serum and a Tatcha moisturizer.
When should I use this product?
The enzyme powders are gentle enough for everyday use (or even twice daily use morning and night).
Can I use this as a cleanser?
Yes, if you are not wearing makeup or if you've already removed makeup, this product can act as a 2-in-1 cleanser, both cleansing and exfoliating the skin at the same time.
Why is it in powder form?
The formula is actually water-activated so it's important to keep it in a dry form before use. Upon pouring the powder into wet hands and adding water, it turns into a creamy lather that can be massaged into the face with highly efficacious cleansing, exfoliating and conditioning results.
Is it okay to exfoliate everyday?
Unlike conventional Western exfoliants, which are often too harsh and stripping for everyday use, Tatcha's Rice Enzyme Powders are specifically formulated to be used everyday and won't strip the skin. This is one of the key differences in the approach of traditional Japanese skincare and Western skincare regimens.
Which Rice Enzyme Powder should I use? Can I mix and match?
Generally, the Gentle version is best for people with drier skin, Classic for normal/combination skin, Deep for more oily skin and Soothing for sensitive skin. However, your skin needs can be different each day and from morning to night and using different versions can be beneficial at different times for the same person.
What is HADASEI-3™ Complex?
At the heart of all Tatcha skincare essentials is HADASEI-3™, our own proprietary complex of Green Tea, Okinawa Red Algae and Rice Bran extracts, combined for their anti-aging properties to keep skin looking supple, smooth, and luminous. The result is beauty in balance - skin that is pure, polished, radiant and supple.
Can I use this with Clarisonic?
You should not need to use our Rice Enzyme Powders with the Clarisonic, as the two products serve the same purpose as exfoliants. For additional exfoliating benefits, we recommend incorporating the Polished Facial Brush by Kashoen 1883 into your ritual, or pairing our Pure One Step Camellia Cleansing Oil with your Clarisonic.

Does each powder contain the same key ingredients?
All three powders are formulated with our proprietary HADASEI-3™ Complex . In addition, the Gentle powder contains Licorice Root extract to help nourish dry skin, the Classic powder, formulated for combination skin, contains conditioning Pearl extract, the Deep powder contains Dokudami extract, a Japanese botanical long prized for its ability to calm acne and balance the complexion and the Soothing contains Colloidal Oatmeal and natural Japanese Indigo extract to help calm easily irritated skin.
Can I use this product around my eyes?
We do not recommend using the Enzyme Powders around your eyes.
Gift Wrap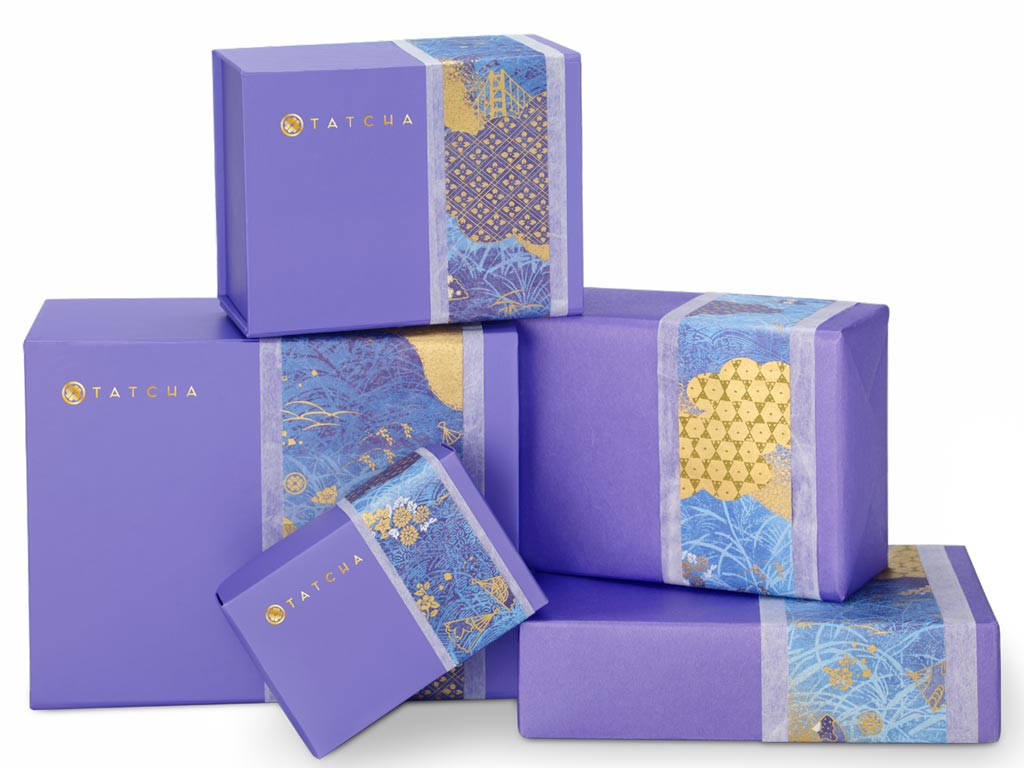 Most items will arrive in our signature gift box accented with blue washi paper. Boxed sets will be wrapped in our custom purple paper, also accented with blue washi.