PETAL FRESH
Original Aburatorigami Japanese Beauty Papers
30 Sheets Each | Size 3.74" x 3.74"
You May Also Like
TATCHA beauty papers were originally created by gold craftsmen to protect the precious metal they hammered into whisper-thin leafing to enrobe the majestic pavilions of Imperial Japan. Their gold-leaf artistry transformed the supporting paper into aburatorigami, an incredibly soft, strong and absorbent leaflet ideal for removing excess oils from delicate skin. How our geisha discovered that this precious by-product of the artisan's alchemy could help create a perfect canvas for her makeup and keep her skin petal-fresh throughout the night remains a mystery. But the benefits of her ancient beauty secret remain unsurpassed to this day.
How do I use this product?
Gently pat with a single leaflet – do not rub or wipe. Begin with the T-zone and blot entire face. Both sides of the paper sheet can be used. Discard after use.
What step in my skincare ritual is this product?
Aburatorigami paper sheets can be used at any time.
Are the beauty papers only for people with oily skin?
No – many of our customers have drier or more mature skin. The papers are an excellent alternative to powder for keeping skin petal-fresh.
Will the gold flake transfer onto my skin?
No, the gold flake is transfer-resistant. Unless the paper is completely soaked in water, the gold flake will not come off.
How do you pronounce aburatorigami, and what does it mean?
Aburatorigami (ah-BOO-rah-tour-i-gah-mee) refers to the gold-leaf origin of the blotting papers. The literal translation is 'oil papers', referring to the absorbent quality of the leaf.
What oil?

I'm really impressed, I have combination skin, more oily than dry, it soaks up the oil leaving my skin to look flawless. I will definitely be purchasing this again. Happy customer!

Read More

Best Papers Ever

My skin has gotten oilier as I get older (ugh!) so I have tried every oil control product in the world and these are by far the best blotting papers ever. They're pricey but I would normally have to use two papers from other brands whereas, these are a good large size. You barely have to touch the paper to your skin at all and it's like the paper draws the oil right up like a magnet! What I do is hold the paper up to my skin and then with my index finger I very gently push and swirl my finger around over the paper so I'm touching my face as gently as possible. These do not get sticky with your oil and pull your makeup away with it. They just absorb any moisture from your skin beautifully, leaving your makeup intact and looking 'petal fresh' indeed. I always replenish my stash of these papers any time I can get them for a good deal and keep a few packs of them at the ready in a drawer. I'm never without these papers and even when I've tried less expensive kinds, I always find myself reaching for these again. There's just nothing else that compares. I do think $10 would be more reasonable but at least they outperform every other brand for the price. Please bring the travel tube papers back in stock as I would love to get those but every time I try they're out of stock. Thank you!!

Read More

Love these!

I have tried quite a few different brands of blotting papers and these are by far the best. Many others are too small or leave a pasty white cast on your face. Also, the Tatcha papers are the ONLY ones I've ever found where you can use BOTH sides. They remove oil without touching makeup and do not leave a white cast on the skin. The Tatcha blotting papers are also beautifully packaged. I don't use any other brand. Highly recommend!

Read More
Gift Wrap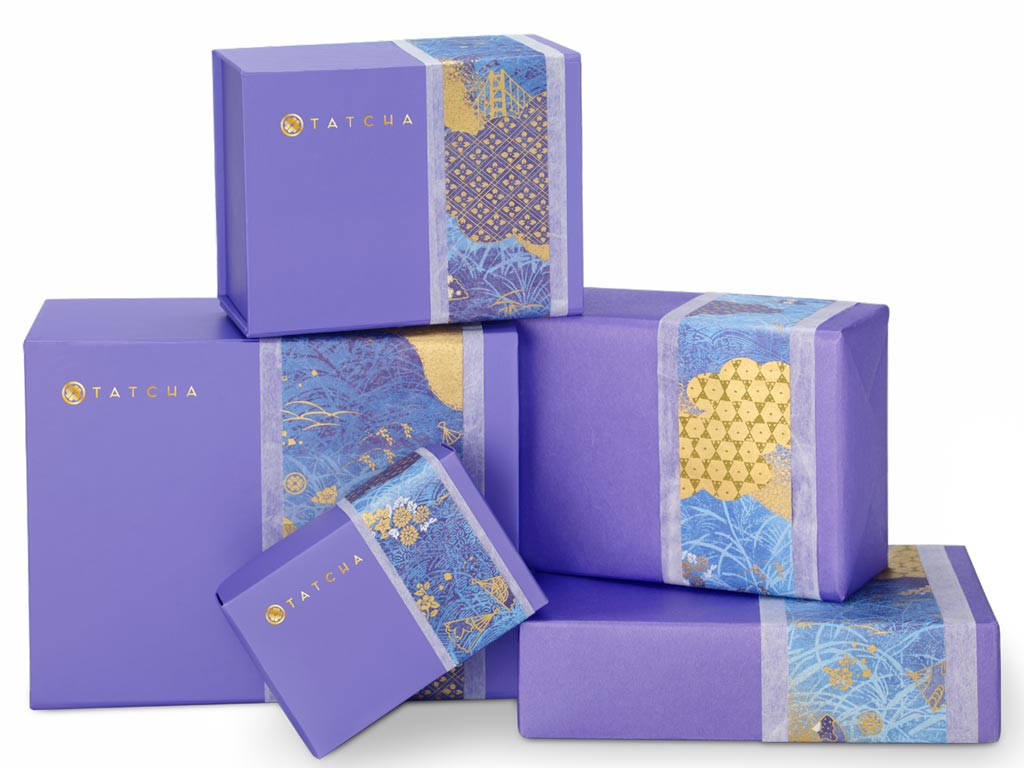 Most items will arrive in our signature gift box accented with blue washi paper. Boxed sets will be wrapped in our custom purple paper, also accented with blue washi.