LUMINOUS
Deep Hydration Revitalizing Eye Mask
You May Also Like
In TATCHA's centuries-old beauty manuscript, red algae is incorporated into rituals from washing the hair to nourishing the body. It has also been a treasured part of the Okinawan diet for centuries, and is called "treasure from the god of the sea" by the island's residents.
How do I use this product?
Begin with clean, dry skin. Unfold mask and peel away one layer of paper backing. Place mask gel-side down and adjust to fit comfortably around eyes. Peel away remaining layer of paper backing and smooth mask to skin. Enjoy the cooling and gentle tingling sensation of hydration for 15 minutes. Remove mask and gently massage remaining serum into skin. Follow immediately with TATCHA Ageless Revitalizing Eye Cream to seal in long-lasting moisture.
When should I use the Luminous Deep Hydration Revitalizing Eye Mask?
We recommend using the mask 1-2 times a week, morning or night, as needed.
Do I need to wash my face after removing the mask?
No. Feel free to massage remaining serum into the skin after peeling the mask off. Follow with Ageless Revitalizing Eye Cream to seal in long-lasting moisture.
Eye love it

I received my eye mask and at first had to really read instructions to get it on correctly lol. Once I mastered it i left it on for 15 minutes. To my surprise my eyes looked amazing and I loved the cooling sensation. I suffer severely with allergies all year long. This has made a world of difference to me. I even tried one on my spouse who has dark circles due to sleep apnea. He could not believe how rested he looked. Thank you once again for an amazing skin care product. Jackie Carpo Harmon. Lancaster PA

Read More

Effective - great for puffy, tired eyes

I've gone through three of these eye masks, always satisfied with the results. I usually wake up with very puffy eyes and this mask diminishes any inflammation. They comfortably fit around the orbital eye area and the essence acts almost like a serum to nourish the skin. I recommend these for anyone who suffer from allergies, after a long cry, prior to a big event (wedding, graduation, birthday) or frequent travelers. I've already purchased more to gift to friends and family.

Read More

CURED MY ALLERGIES??

I have NEVER thought of using an eye mask to help relieve my itchy, dry, and swollen eyes during the spring season. My allergies are terrible and I just haven't had the chance to get my new prescription yet. I was laying in complete agony the other day when I spotted the eye masks on my night stand. I thought to myself, it couldn't hurt could it? So I threw those babies on, which was surprisingly easy especially considering I could barely see. Almost immediately I felt relief and after 15 minutes all the symptoms were gone. It was amazing! My fine lines were practically erased when I took them off as well. Tatcha has another must have on their hands with these masks. THANK YOU!!

Read More
Gift Wrap Details
Signature Wrapping Paper
Our holiday gift sets, curated gifts, and the Ritual Discovery Kit arrive wrapped in signature purple paper with a seasonal decorative embellishment.
For special gift wrapping requests, please contact our Customer Care team at info@tatcha.com or (888) 739-2932 ext. 1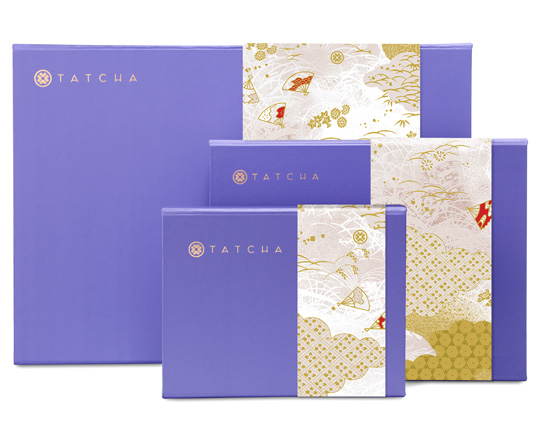 Signature Gift Box
Individual items and all other sets arrive in our signature gift box accented with a band of seasonal washi paper. Items will be combined into a single box unless otherwise requested. Any additional boxes needed are complimentary.
For special gift wrapping requests, please contact our Customer Care team at info@tatcha.com or (888) 739-2932 ext. 1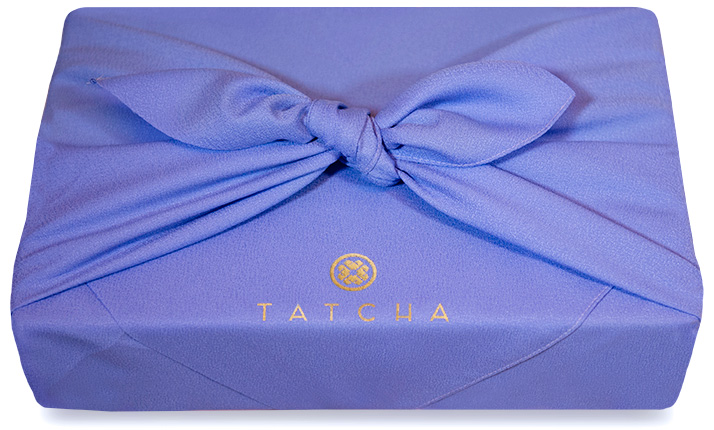 Traditional Japanese Furoshiki
Kiri Collections arrive wrapped in traditional Japanese furoshiki.
For special gift wrapping requests, please contact our Customer Care team at info@tatcha.com or (888) 739-2932 ext. 1