SUNRISE: A Plum Blossom
23-Karat Gold Illuminated Lipstick
3 g
You May Also Like
VOGUE

"Eastern Promise: Ancient beauty secrets of the geisha"

"What would you do if you heard about a 200-year-old book from Japan, the oldest of its kind, said to contain never-before-seen details of the heavily guarded beauty rituals of the geisha?"
What type of finish does this lipstick have?
This lipstick offers a creamy, lustrous finish with hint of 23-karat gold for a shimmer-free luminosity. The lipstick is rich, lush and hydrating, and is not glossy.
How will I know if this looks good on my skin tone?
Our dear friend and celebrity makeup artist, Matthew VanLeeuwen, was our trusted collaborator in developing this cool plum pink lipstick. After trying the shade on several women, Matthew is certain it will bring a naturally youthful blush to any complexion. As always, we stand behind our Happiness Guarantee and invite you to contact one of our Skincare Specialists by emailing info@tatcha.com or calling (888) 739-2932 ext 1. to easily resolve any concerns with your purchase.
Does the lipstick have a fragrance?
This lipstick is unscented and fragrance-free.
Why is this a Limited Edition item?
The shade is inspired by a unique moment in time - the golden morning light striking the pink Japanese Plum Blossoms on a cool, snowy spring morning in Kyoto. We created this as a gift for our friends to capture this special time. Our timeless classic, Kyoto Red Silk Lipstick, endures as a permanent part of the Tatcha Collection. In Japan, honoring each season with distinct foods, patterns, colors and botanicals is an important part of life. When Victoria Tsai, Tatcha Founder and Chief Treasure Hunter, saw the first vibrant pink blossoms of the plum trees peek through the snowy tree branches on a Kyoto morning, she was immediately inspired with hope and joy. She knew capturing this moment was the way she wanted to honor the spring season.
How did TATCHA develop this lipstick?
Tatcha partnered with friend and makeup artist, Matthew VanLeeuwen, to perfect the shade and formula. Then we turned to our respected scientists at the Tatcha Institute to make the formula long-lasting, richly-hydrating and universally-flattering. Tatcha is honored to present this special gift to the world as a celebration of Kyoto spring. To learn more about the inspiration for this limited edition color, visit our blog.
Is this lipstick the same texture and finish as Kyoto Red Silk Lipstick?
Our Sunrise: A Plum Blossom Lipstick has a creamy, lustrous finish, while the Kyoto Red Silk Lipstick offers a silken, matte finish. Both lipsticks offer nourishing hydration for lips.
Gift Wrap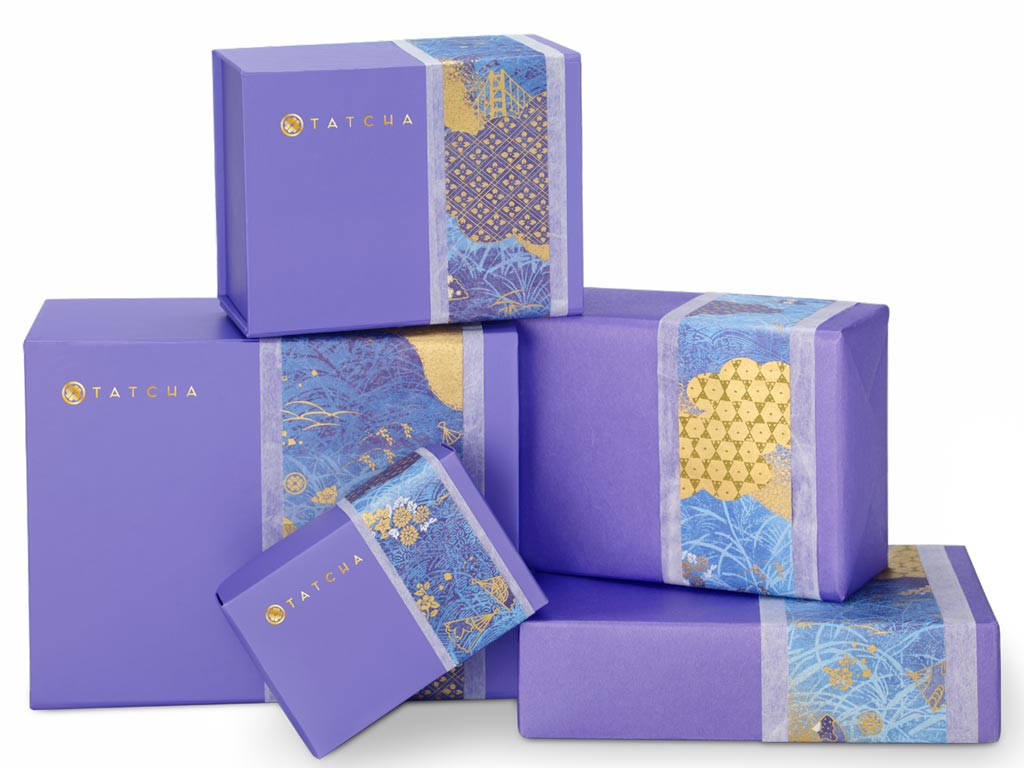 Most items will arrive in our signature gift box accented with blue washi paper. Boxed sets will be wrapped in our custom purple paper, also accented with blue washi.