Enduring
Ritual for Normal + Combination Skin
You May Also Like
In the West, geisha are known for their intricate stage makeup. In the East however, she is known for the "mochi hada" or "baby skin" beneath her performance makeup. Her rituals are deceptively and brilliantly simple though.
The foundation of her classic beauty ritual is brilliantly effective and deceptively simple — a trio of powerful anti-oxidants, each fulfilling a key role in her regimen:
Green Tea — the healing protector
Rice Bran — the nourishing exfoliant
Okinawa Red Algae — the replenishing moisturizer

These anti-oxidant rich ingredients are at the heart of a diet credited with the extraordinary longevity of the Japanese people.
What is the ritual?
TATCHA's skincare collection is a recreation of the classic beauty essentials used for centuries by geisha, famed for their pure, polished, radiant and supple skin.
How many steps are in the ritual?
TATCHA's skincare ritual has 4 effortless steps:
1. Purifying — melt away impurities + even waterproof makeup in just one easy step
2. Polishing — reveal skin's natural pearly luster with an enzyme exfoliant
3. Brighten — boost the skin's natural radiance by diminishing the look of age spots
4. Nourishing — bring the youthful suppleness of skin back by repleneshing vital nutrients and moisture
How do I use this ritual?
Step 1: PURE One Step Camellia Cleansing Oil
Step 2: POLISHED Rice Enzyme Powder
Step 3: RADIANT Deep Brightening Serum
Step 4: SUPPLE Moisture Rich Silk Cream
How long does the ritual take?
TATCHA's skincare philosophy is one of simplicity and effortlessness. The entire ritual can be completed in 3 minutes.
Will this work for me if I am not Asian?
Yes, the benefits of this skincare collection can be enjoyed by all ethnicities because the formulas work to return skin to its original state of balance, the beautiful skin that we were all born with.
How long will it take to see results?
When used as a ritual daily, morning and night, results can be seen as quickly as 2 weeks. For optimal results, continue for at least 8 weeks.
What is the core ingredient in the collection?
At the heart of all TATCHA skincare essentials is our HADASEI-3 Bioactive Complex, a trio of time-tested extracts of Green Tea, Okinawa Red Algae and Japanese Rice Bran. Extremely rich in Epigallocatechin, Beterhelin and Inositol, these potent extracts work together to nourish and boost the skin's barrier function inside and out. The result is beauty in balance — skin that is pure, polished, radiant and supple.
I have sensitive skin. Can I use these products?
All of TATCHA's skincare essentials are dermatologist tested, non-irritating and non-sensitizing. We formulate without mineral oil, synthetic fragrances, sulfate detergents, parabens, PEGs, PPGs, urea, DEA, TEA and phthalates.
What is the difference between the Gentle Ritual for Normal + Combination Skin and the Ritual for Normal + Combination Skin?
The one difference between the two versions of this Ritual is the Gentle version contains a Gentle Rice Enzyme Powder whereas the Ritual for Normal + Combination Skin contains a Classic Rice Enzyme Powder. TATCHA recommends the Gentle Powder for those with sensitive skin. For clients who do not have sensitive skin, the Gentle powder can also be kept on the skin for a longer period of time to replicate the strength of the Classic Powder.
Not for year round

I ordered the full set for combo skin......my skin felt dry. It's probably good in the summer, not year round. I should've gotten the set for dry or gentle skin.

Read More

I am loving tatcha

I love this kit. It has saved my skin. The cleansing oil is perfect to use to take off the day. I love the powder. It makes my skin feel super soft after I use it (like the softest it has ever been). I like the serum and moisturizer as they are not thick but work well. My skin is combination and this kit neither makes me oily or dry just perfect.

Read More

Best way to try and fall in love with everything!

I started with a small sample of the classic rice enzyme powder being handed out in a local store. From there I came to the website to see what else was available and found this starter kit. I thought that if the rice powder made such an overnight difference in my skin, I had to try other products in the line and I am so glad I did! Not only has the rice powder cleaned my skin, the serum has brightened my skin, and the moisture cream has given me back the hydration I thought I had lost forever. Other product lines left my skin raw, or greasy, or with breakouts, but this has healed my skin and it looks beautiful. Years of sun damage are almost imperceptible and I have only been using this for about one month so far. I tried switching out the serum and using something else (because it is so expensive!) but my skin just didn't have that glow and it didn't feel as comfortable as when using the entire kit together. I have used cheaper skin care, and more expensive, too, but this is what I have been searching for all my life. My skin is super sensitive, I have rosacea, sun damage, discoloration - you name it, it's etched on my face. However, my "elevens" between my brows are softened, sun spots are gone, rosacea finally calmed and even broken capillaries from my 20s are less visible. Everyone should try these products. The starter kit is a great way to discover what works best for you. I think it's wonderful that we are given a chance to try these products before spending a lot on full size items. The customer service, the speed of shipping, the care of the packaging - everything has been a fantastic experience here and I look forward to years of trying more products from this company. You have nothing to lose by trying this skin care package. It's really amazing.

Read More
Gift Wrap Details
Signature Wrapping Paper
Our holiday gift sets, curated gifts, and the Ritual Discovery Kit arrive wrapped in signature purple paper with a seasonal decorative embellishment.
For special gift wrapping requests, please contact our Customer Care team at info@tatcha.com or (888) 739-2932 ext. 1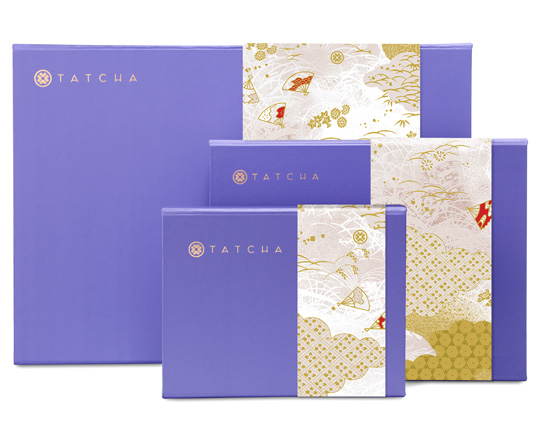 Signature Gift Box
Individual items and all other sets arrive in our signature gift box accented with a band of seasonal washi paper. Items will be combined into a single box unless otherwise requested. Any additional boxes needed are complimentary.
For special gift wrapping requests, please contact our Customer Care team at info@tatcha.com or (888) 739-2932 ext. 1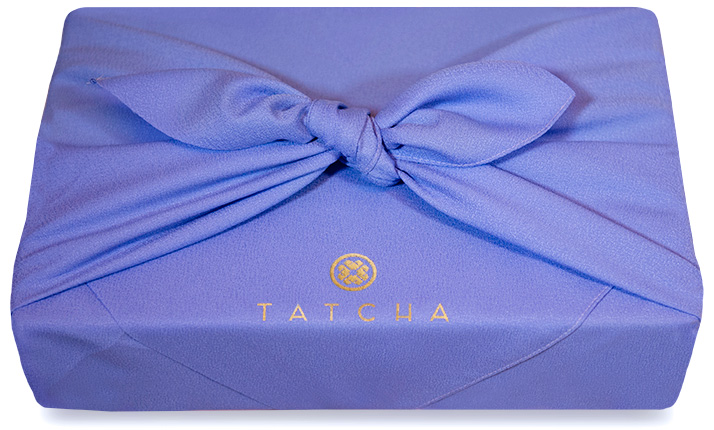 Traditional Japanese Furoshiki
Kiri Collections arrive wrapped in traditional Japanese furoshiki.
For special gift wrapping requests, please contact our Customer Care team at info@tatcha.com or (888) 739-2932 ext. 1