Enduring
Ritual for Normal + Combination Skin
You May Also Like
In the West, geisha are known for their intricate stage makeup. In the East however, she is known for the "mochi hada" or "baby skin" beneath her performance makeup. Her rituals are deceptively and brilliantly simple though.
The foundation of her classic beauty ritual is brilliantly effective and deceptively simple — a trio of powerful anti-oxidants, each fulfilling a key role in her regimen:
Green Tea — the healing protector
Rice Bran — the nourishing exfoliant
Okinawa Red Algae — the replenishing moisturizer

These anti-oxidant rich ingredients are at the heart of a diet credited with the extraordinary longevity of the Japanese people.
O, THE OPRAH MAGAZINE

"The story behind TATCHA skincare"

"My skin is somewhat dull, but TATCHA's Rice Enzyme Powder works like magic to make my skin clean and smooth."

Vogue

"Eastern Promise: Ancient beauty secrets of the geisha"

"What would you do if you heard about a 200-year-old book from Japan, the oldest of its kind, said to contain never-before-seen details of the heavily guarded beauty rituals of the geisha?"
What is the ritual?
Tatcha's skincare collection is a re-creation of the classic beauty essentials used for centuries by geisha, famed for their pure, polished, radiant and supple skin.
How do I use this ritual?
Step 1: PURE One Step Camellia Cleansing Oil
Step 2: POLISHED Classic Rice Enzyme Powder
Step 3: RADIANT Deep Brightening Serum
Step 4: SUPPLE Moisture Rich Silk Cream
How long will it take to see results?
When used as a ritual daily, morning and night, results can be seen as quickly as 2 weeks. For optimal results, continue for at least 8 weeks.
What is the core ingredient in the collection?
At the heart of all Tatcha skincare essentials is our own proprietary complex of Green Tea, Okinawa Red Algae and Rice Bran extracts, combined for their anti-aging properties to keep skin looking supple, smooth and luminous. The result is beauty in balance — skin that is pure, polished, radiant and supple.
I have sensitive skin. Can I use these products?
All of Tatcha's skincare essentials are dermatologist tested, non-irritating and non-sensitizing. We formulate without mineral oil, synthetic fragrances, sulfate detergents, parabens, PEGs, PPGs, urea, DEA, TEA and phthalates.
I love this kit

I bought this for myself after trying the discovery kit from QVC a month or so ago. I especially love the Classic Rice Enzyme Powder. I use it in the shower in the morning, then follow that with the Deep Brightening Serum and the Silk cream. I mostly use the Cleansing Oil when I wear makeup, which is not every day. I still take my mascara off before I use it, because, I feel like I'm rubbing the mascara into my skin while I cleansing it. I love how all of these products make my skin feel so incredibly soft and supple. The Cleansing Oil removes all of my makeup and really does dissolve into this wonderful milky stuff right before rinsing off completely. No oily feeling at all, just clean and soft. I have a feeling that this kit will last me a long time, but, I will definitely reorder. So happy I found this product.

Read More

Not for year round

I ordered the full set for combo skin......my skin felt dry. It's probably good in the summer, not year round. I should've gotten the set for dry or gentle skin.

Read More

I am loving tatcha

I love this kit. It has saved my skin. The cleansing oil is perfect to use to take off the day. I love the powder. It makes my skin feel super soft after I use it (like the softest it has ever been). I like the serum and moisturizer as they are not thick but work well. My skin is combination and this kit neither makes me oily or dry just perfect.

Read More
Gift Wrap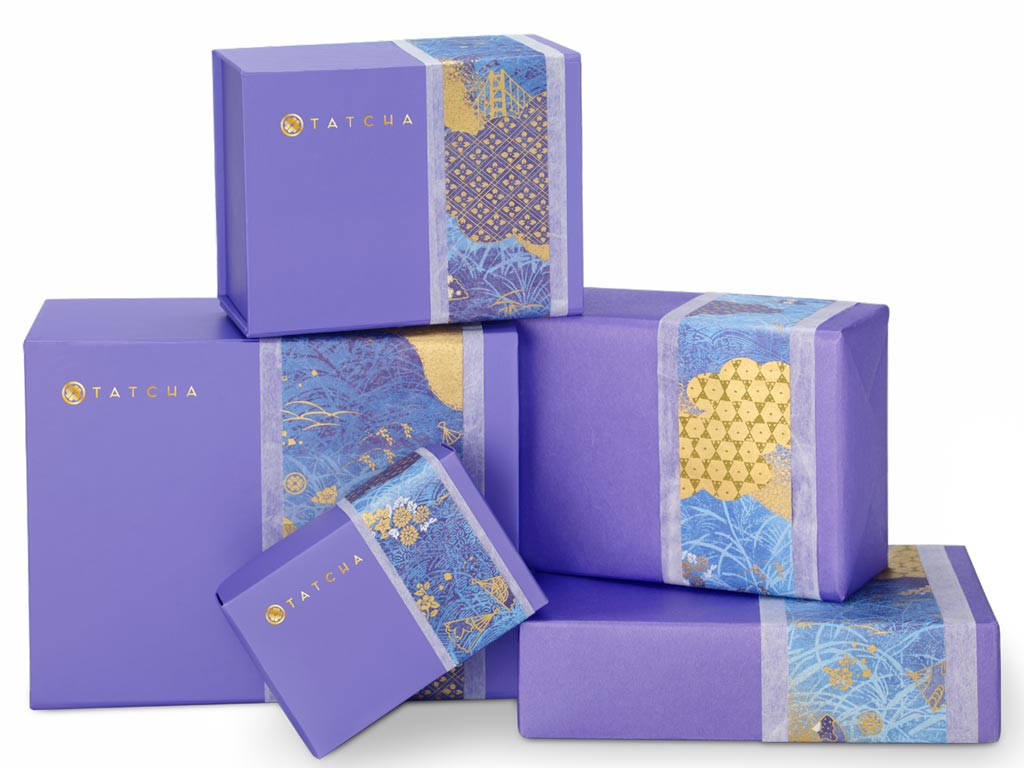 Most items will arrive in our signature gift box accented with blue washi paper. Boxed sets will be wrapped in our custom purple paper, also accented with blue washi.