Enduring
Ritual for Oily Skin
You May Also Like
In the West, geisha are known for their intricate stage makeup. In the East however, she is known for the mochi hada or "baby skin" beneath her performance makeup. Her rituals are deceptively and brilliantly simple though.
The foundation of her classic beauty ritual is brilliantly effective and deceptively simple — a trio of powerful anti-oxidants, each fulfilling a key role in her regimen:
Green Tea — the healing protector
Rice Bran — the nourishing exfoliant
Okinawa Red Algae — the replenishing moisturizer

These anti-oxidant rich ingredients are at the heart of a diet credited with the extraordinary longevity of the Japanese people.
Vanity Fair

"Give the Gift of Gorgeous Skin"

The TATCHA Ritual Kiri Gift Box packs all of the skin-care essentials into a precious wooden Japanese keepsake box, custom-made by an artisan shop in Tokyo.
What is the ritual?
Tatcha's skincare collection is a recreation of the classic beauty essentials used for centuries by geisha, famed for their pure, polished, radiant and balanced skin.
How do I use this ritual?
Step 1: PURE One Step Camellia Cleansing Oil
Step 2: POLISHED Deep Rice Enzyme Powders
Step 3: RADIANT Deep Brightening Serum
Step 4: BALANCED Pore Perfecting Water Gel
How long does the ritual take?
Tatcha's skincare philosophy is one of simplicity and effortlessness. The entire ritual can be completed in 3 minutes.
How long will it take to see results?
When used as a ritual daily, morning and night, results can be seen as quickly as 2 weeks. For optimal results, continue for at least 8 weeks.
What is the core ingredient in the collection?
At the heart of all Tatcha skincare essentials is our own proprietary complex of Green Tea, Okinawa Red Algae, and Rice Bran extracts, combined for their anti-aging properties to keep skin looking supple, smooth, and luminous. The result is beauty in balance - skin that is pure, polished, radiant and balanced.
I have sensitive skin. Can I use these products?
All of Tatcha's skincare essentials are dermatologist tested, non-irritating and non-sensitizing. We formulate without mineral oil, synthetic fragrances, sulfate detergents, parabens, PEGs, PPGs, urea, DEA, TEA and phthalates.
Tears of Joy!

I use all Tatcha skin care now. I love that my entire skin care routine is simple and effective, not overwhelming my skin with a bunch of different serums. I was a huge advocate for Asian skin care products before it was recognized as the best for your skin. I am Korean and have religiously used a very famous Japanese skin care line for for 20 years. I saw Tatcha on QVC one day and decided to give it a try starting with the cleansing products, that is when I was hooked. From that point, I have used only Tatcha and never looked back. I recommend this entire line.

Read More

The best.

I had to leave a review because I think this line is the best I have tried. I'm in my early 30's with oily, clogged large pores, acne prone skin with hyper pigmentation scars and I'm Asian. My skin has been terrible for as long as I can remember. The first difference I noticed after the first night of using this regimen is that I didn't wake up with that gross oil slick on my face that I usually have despite any skin care line I use. I have tried almost every brand out there; high end, low end, organic, prescriptions, etc. My skin feels great after washing with the oil and the rice enzyme. It's comfortable and not dry or tight. The serum glides nicely and the moisturizer is just right for my skin. Overall my skin is a little less oilier with improved texture. I need to blot maybe once/day. I've only used this for about a week so I look forward to see how my skin looks with longterm use. I always knew an Asian line would benefit my skin and this is very promising. The packaging is also really great and the moisturizer comes with a little spatula and a ribbon tie to keep it in place! I've always thought that's the way it should be done with cream pots. I'm glad they thought of that kind of detail. I bit the bullet when I saw the 20% discount and I'm very happy with my investment.

Read More

It Really Works!!!

I have had acne for most of my life. About 10 years ago, I began using Obagi and it worked. The problem was peeling and drying of my skin. I discovered Tatcha on QVC and watched wondering if it might work for me. I ordered the Oily Discovery Kit from Tatcha and used it expecting my skin to break out again. Well, four weeks later, my glowing skin is better than ever. There are no breakouts, when one seems to try, it's gone the next day! I am also noticing the redness is reducing each week! My enlarged pores seem to be shrinking…but I expect that to take time. I am now using the full sized regime daily and absolutely love it! This product works for all races and skin types. I am a 63 year old African American woman. Thank you Vicki and your entire staff for this marvelous product! My skin loves you!!!

Read More
Gift Wrap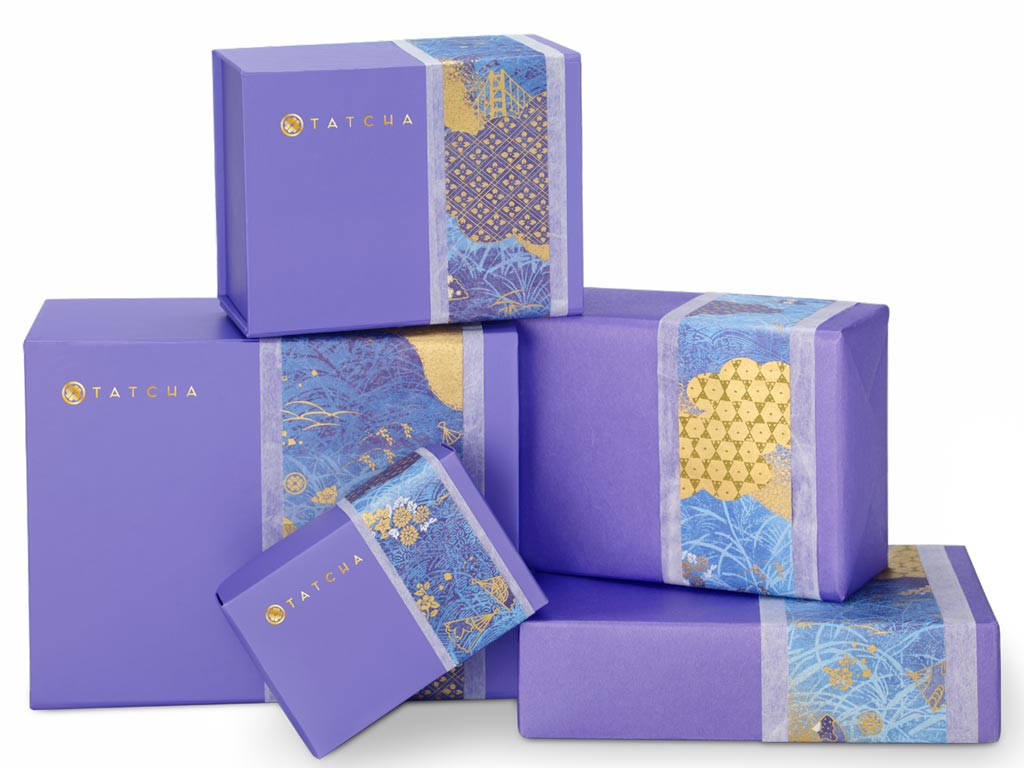 Most items will arrive in our signature gift box accented with blue washi paper. Boxed sets will be wrapped in our custom purple paper, also accented with blue washi.