Enduring
Ritual Kiri Collection
You May Also Like
In the West, geisha are known for their intricate stage makeup. In the East however, she is known for the "mochi hada" or "baby skin" beneath her performance makeup. Her rituals are deceptively and brilliantly simple though.
The foundation of her classic beauty ritual is brilliantly effective and deceptively simple — a trio of powerful anti-oxidants, each fulfilling a key role in her regimen:
Green Tea — the healing protector
Rice Bran — the nourishing exfoliant
Okinawa Red Algae — the replenishing moisturizer

These anti-oxidant rich ingredients are at the heart of a diet credited with the extraordinary longevity of the Japanese people.
VOGUE Australia

"The Geisha No-Glow"

When setting foot outside for just a few seconds results in an oil spill across a carefully primed complexion, keep TATCHA Japanese Beauty Papers, $16 on hand for touch-ups....These thirsty little squares soak up oil and freshen make up in seconds-nixing the need for fiddly powder.

VOGUE UK

"The rise and rise of the Far East is set to rock our beauty world"

It's rather amazing to suddenly have a whole new clutch of beauty-product descriptions to bandy around. "Milky Waters", "softening lotions", "essences", "powders", "moisture foams"...It's a vernacular familiar to any beauty consumer in Asia but to us it's fresh, exotic, and we want it.
What is the ritual?
Tatcha's skincare collection is a recreation of the classic beauty essentials used for centuries by geisha, famed for their pure, polished, radiant and supple skin.
How do I use this ritual?
Step 1: PURE One Step Camellia Cleansing Oil
Step 2: POLISHED or INDIGO Rice Enzyme Powder
Step 3: RADIANT Deep Brightening Serum or LUMINOUS Deep Hydration Firming Serum
Step 4: SUPPLE Moisture Rich Silk Cream or INDIGO Soothing Triple Recovery Cream or AGELESS Enriching Renewal Cream or BALANCED Pore Perfecting Water Gel Moisturizer
How long does the ritual take?
Tatcha's skincare philosophy is one of simplicity and effortlessness. The entire ritual can be completed in 3 minutes.
How long will it take to see results?
When used as a ritual daily, morning and night, results can be seen as quickly as 2 weeks. For optimal results, continue for at least 8 weeks.
What is the core ingredient in the collection?
At the heart of all Tatcha skincare essentials is our own proprietary complex of Green Tea, Okinawa Red Algae, and Rice Bran extracts, combined for their anti-aging properties to keep skin looking supple, smooth, and luminous. The result is beauty in balance — skin that is pure, polished, radiant and supple.
I have sensitive skin. Can I use these products?
All of Tatcha's skincare essentials are dermatologist tested, non-irritating and non-sensitizing. We formulate without mineral oil, synthetic fragrances, sulfate detergents, parabens, PEGs, PPGs, urea, DEA, TEA and phthalates.


Perfect gift of beauty

This was my first big set after I had purchased the trial size set and fell in love. As I first received in the mail I was so excited, it was beautifully packaged and the hand written card made me feel like I was receiving my Christmas gift. I love the box and cloth and I use it to keep my daughters keepsakes in it. The products on the inside are beautifully arranged and well packaged so no worries about anything getting damaged. Now to my favorite part the items in the ritual is to sum up in one word AMAZING. I have extremely sensitive everything and thanks to Tatcha for sharing these amazing products I now use only one brand, and definitely without a doubt a lifetime customer.

Read More

Falling in love

First off, the packaging is absolutely gorgeous. And I love the little attention to detail such as a lovely hand written note from their CEO, Vicky. Having never used a oil based cleanser, it was an adjustment for me as well as a learning experience. One of the immediate positive results was how easily my make up comes off. Even my most sturdiest of waterproof eyeliner and mascara comes off with ease now. I am totally saving $$ by not having to use eye make up remover. The more gradual benefit I've been seeing after using the entire set for 2 weeks now is my acne prone normal/oily combination skin has been smoother and developed that healthy glow. I really love the rice enzyme and brightening serum. It leaves my skin feeling baby soft. The moisturizer is great but a bit to heavy for me to use during the day time so I just stick to it for nightly use. The oil adsorbing sheets are awesome, I just wish the packaging was smaller. Overall, the product is great and I definitely have been seeing benefits. The only downfall would be the price but if everything continues to work the way it has then I think it's worth it!

Read More

Love it!

After using the same skincare products for almost 2 years, I was looking for a change. One of my very generous friends gifted this to me and I instantly saw a change in my skin. My old products worked for the first year, then zits started to come back. I ignored it and kept to my same routine. After just three days of using Tatcha's products, my skin completely changed. It was much softer and the zits stopped appearing. I stopped using Tatcha for a few days to finish up my old products, and again my skin changed. Redness, irritation, and zits came back. I will never stop using Tatcha from now on!

Read More
Gift Wrap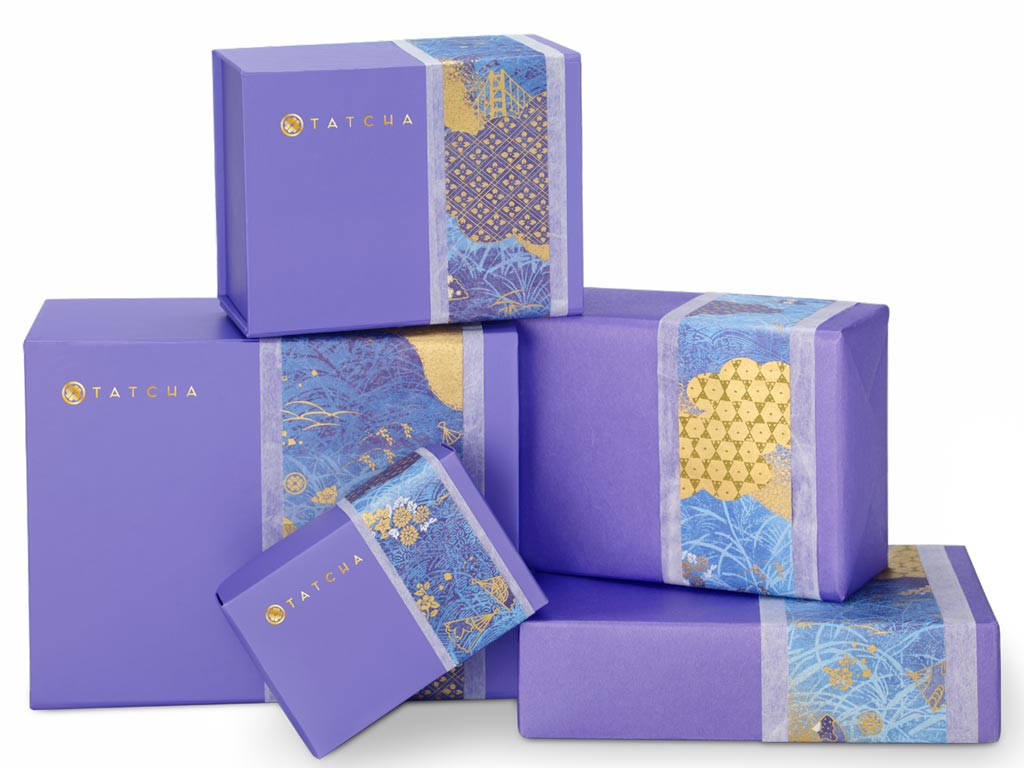 Most items will arrive in our signature gift box accented with blue washi paper. Boxed sets will be wrapped in our custom purple paper, also accented with blue washi.