Enduring
The TATCHA Ritual
You May Also Like
In the West, geisha are known for their intricate stage makeup. In the East however, she is known for the "mochi hada" or "baby skin" beneath her performance makeup. Her rituals are deceptively and brilliantly simple though.
The foundation of her classic beauty ritual is brilliantly effective and deceptively simple — a trio of powerful anti-oxidants, each fulfilling a key role in her regimen:
Green Tea — the healing protector
Rice Bran — the nourishing exfoliant
Okinawa Red Algae — the replenishing moisturizer

These anti-oxidant rich ingredients are at the heart of a diet credited with the extraordinary longevity of the Japanese people.
Daily Candy

"TATCHA Skincare Launches"

"We've been singing the praises of Tatcha blotting papers since we first swiped one across our oily forehead in 2009. But founder Victoria Tsai proves her company is no one-hit wonder with the release of a full skin care line based on authentic Japanese beauty rituals. ...All sure to be chart toppers."

San Francisco Chronicle

"Beauty Secrets of the Geisha"

"Our entire team tried TATCHA and just fell in love with the textures and fragrances, as well as the way our skin felt and looked after using the products."
What is the ritual?
Tatcha's skincare collection is a recreation of the classic beauty essentials used for centuries by geisha, famed for their pure, polished, radiant and supple skin.
How do I use this ritual?
Step 1: PURE One Step Camellia Cleansing Oil
Step 2: POLISHED or INDIGO Rice Enzyme Powder
Step 3: RADIANT Deep Brightening Serum or LUMINOUS Deep Hydration Firming Serum
Step 4: SUPPLE Moisture Rich Silk Cream or AGELESS Enriching Renewal Cream or INDIGO Soothing Triple Recovery Cream or BALANCED Pore Perfecting Water Gel Moisturizer
How long does the ritual take?
Tatcha's skincare philosophy is one of simplicity and effortlessness. The entire ritual can be completed in 3 minutes.
How long will it take to see results?
When used as a ritual daily, morning and night, results can be seen as quickly as 2 weeks. For optimal results, continue for at least 8 weeks.
What is the core ingredient in the collection?
At the heart of all Tatcha skincare essentials is HADASEI-3™, our own proprietary complex of Green Tea, Okinawa Red Algae and Rice Bran extracts, combined for their anti-aging properties to keep skin looking supple, smooth, and luminous. The result is beauty in balance - skin that is pure, polished, radiant and supple.
I have sensitive skin. Can I use these products?
All of Tatcha's skincare essentials are dermatologist tested, non-irritating and non-sensitizing. We formulate without mineral oil, synthetic fragrances, sulfate detergents, parabens, PEGs, PPGs, urea, DEA, TEA and phthalates.
Gift Wrap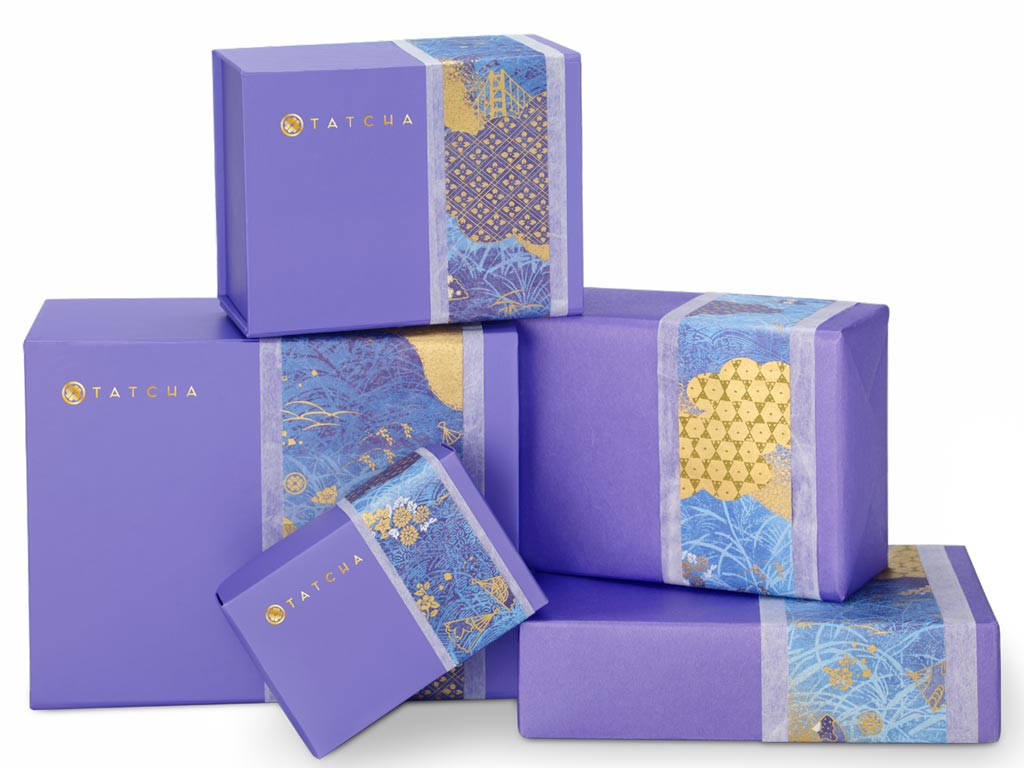 Most items will arrive in our signature gift box accented with blue washi paper. Boxed sets will be wrapped in our custom purple paper, also accented with blue washi.